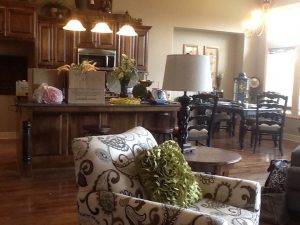 No matter how delightful a room design may be, keeping it that way once life enters can be a bit challenging.  Short of hanging barriers and declaring it off- limits, adding storage in or near the room for the normal extras daily living bring can enhance the design.  Managing the clutter makes the room even more enjoyable.
If you find yourself living in a smaller space, or your space seems to have shrunk with use & traffic, efficiency is a great idea.  How much more fun though, if that efficiency lends its own style.
Storage can blend into the background, add accent to the theme, or be hidden.  Color or a unique piece that also adds comfort –  like an ottoman that opens for storage, or a pillow that becomes a throw – invites you to relax and enjoy.  It might be something as simple as a basket to hold loose items, or as involved as a wall of hidden cabinets.  Using a monochromatic color scheme to create the illusion of depth and texture can add a wonder feel. Conversely, using all one color can make a large item seem smaller.
In areas that can do double duty, why not utilize unique ways of storing different activities?  A small bureau near a table with each project in a drawer – children's craft materials in one, sewing projects in another, a portable office in the third.  Hinge the drawer fronts to create access, then slide the active project back inside to clear the area for the next use.  Or simply take the drawer out to use the items and replace it when the area needs to change function.  Constantly battle with "office paper creep"? Use several drawers, with sections, for quick organization.  What you want is then corralled in a central location, and won't have disappeared when you next need them.
Closets can often become additional space. How about an office – a place for homework, bills, or correspondence; a pantry can provide extra space with workstations for expanding the kitchen for family events.  Create a buffet style-storage off the dining room inside a closet.  Open it up for large gatherings and use as a sidebar, close it back up to keep seasonal items and extra sets of dishware.
Of course there are traditional storage furniture – armoires, hutches, side tables with drawers, islands.  These great pieces can be adapted for different uses over time, and add character and charm to your home no matter how or where they are used.
And don't forget, my clients always say "I never would have thought of that!"   
Want to find out why?  Use the form to the right to send me your name and email to join us!