The weather is changing, the days are getting longer, and life gets busier.  Home has been comfortable and most likely the center of your activities for these cooler months, but now the focus is changing.  More time spent outdoors, more entertaining, games, parties, and light.
Most likely, your family is involved in sports, music, community activities, and art.  Tis the season of "who's taking me?" and a steady stream of "in and out" begins.  Time together now comes at a premium, make changes in your home to take advantage of the time available.  Rearrange seating areas to focus on higher traffic areas – kitchen and eating areas, external doors, and back yard play areas.
Open up the curtains.  Before they kept the cold out – now use them to frame the light and capture breezes.
Set up areas to store all those extra items this season brings.  It gives you a way to keep them just out of sight, but near – ready to be put to use.   Help avoid that last minute frantic rush to find a missing item as you are heading out the door.
Spend a little time shopping for special items to add or streamline routines.  A great find would be a cart to move from room to room, inside and outdoors.  Maybe dress up a serving cart to double as a gardening cart/potter's bench.
It's time to pull out the outdoor furniture.  Clean, check for any damage, maybe add a new piece, touch up the color in spots, and launder the cushions.   Is it time for new ones?  Don't forget to remove any little guests that may have been overwintering!
Find ways to tie the themes of outdoor and indoor together.  Those new colors you added indoors – bring them outside.  Use them in tablecloths, f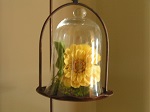 lowers, coasters; throw cushions, or ceramic pots.  Alternatively, buy duplicates; get one for inside, and one for the patio.  Keep the color palette to 3 or 4 colors.
Refresh pots and top up with new soil, move them around a bit for a new feel.  When the nurseries open, and you'll be set to plant your discoveries the moment they come home with you.  Then you can enjoy them even longer!
Start planning now for some special outdoor times with friends and family.  Find a fun theme, maybe choose to celebrate a little known day.  Having trouble with ideas?  Check out "Bizarre, Wacky and Unique " for ideas.
And don't forget, my clients always say "I never would have thought of that!"   
Want to find out why?  Use the form to the right to send me your name and email to join us!