Well, I am a bit of a procrastinator, but I'm always wanting to spiff up the rooms with a few tweaks.  Thought I would share some fun ideas for quick fun updates from BHG…..
Add a natural scene to a plain white vase with a simple photo-transfer technique (see image above).  Print your photo on Lazertran paper, making sure the image prints on the chalky eggshell side. Let dry for 30 minutes. Cut the image to size. Soak the printout facedown in a pan of water for about a minute. Peel off the backing and place the filmy printout onto a ceramic vase,  smoothing out any air bubbles.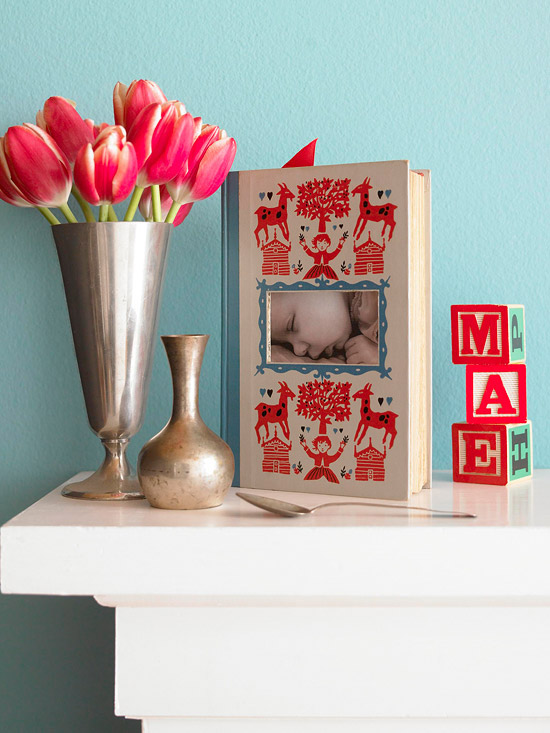 Have some fun family pics that you just gotta display?  How about books that have a fun memory?  I have many books from garage sales, thrift stores, my childhood, and my kiddos, that would work great for this project.  Select books that scream the colors that are in the room you envision…..Bold colors would be great in both a neutral or bold palette. OK, here we Go!
Using a crafts knife, carefully cut a rectangle out from the front cover. To create the mat, cut a few of the inside pages into a rectangle a bit smaller than the cover rectangle. Glue the pages to the cover and tape a photo in place.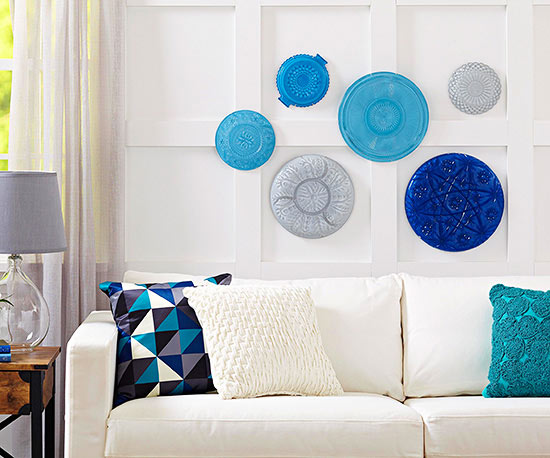 Some crystal we just need to keep as is – but other pieces of crystal…why not?
Rescue cast-off crystal platters and turn them into one-of-a-kind artwork. Paint the smooth sides of the platters with two to three coats of acrylic paint; let dry between coats. Mix and match colors, sizes, and patterns and hang the platters together in a grouping.
For those of you who are waiting for the reschedule of my shopping webinar, hang on, it is just around the corner.  Technical difficulties take on a whole new meaning in my office…ugh.  But it will be worth the wait.  My social media team is working hard to help me get this baby rolling!
Our oldest son graduates from college on Saturday.  So very proud of this young man, he is such a joy (except when I had to stand on a chair, look him in the eye, and remind him who is boss).  Congrats to Nate and his girlfriend Ally who is also walking across the stage on Saturday!  You have loved ones graduating too?  Would love to see pics!
Have a great week everyone!