Ok, let me start by letting you all know that I kinda have a thing for chairs.  All kinds of chairs, so emotion plays a role in my decision making for my home and chairs…..With that said, lets continue.
So many clients ask about chairs, when to purchase new, when to reupholster, and when to change the style altogether……
Well, I am here to say it all depends. Yeah, I know.
First, I encourage you to ask yourself a few questions before considering reupholstering.
Do you love the lines of the chair?  Is it a quality frame? Or one that could be repaired without being replaced? How do you want to use the chair?  What is your budget?
With a lower budget, I generally recommend slip covers or reupholstering.  If you love it, like my client Debbie loves her chair, then yes – throw some new fabric on this baby and show her off!
Unless your budget is mid-to-high, replacing a nice chair will take just that, a mid-to-high-end budget.  Keep in mind that fabric categories also change the price point.
Take me for example.  I have the club chair that my dad always napped in after dinner. Funny now how I take a nap before bedtime as well…as does our dog Molly.
Originally it was green (yes, green) leather, which was worn thin but the frame was in good shape.  In reality I wanted to use this chair so much, I would have rebuilt the frame.  I had her reupholstered, along with the ottoman, and put her proudly in my family room.  This was 20 years ago, and while it's still in my family room, the time has come for a new look.  So guess what? I am selecting some new fabric!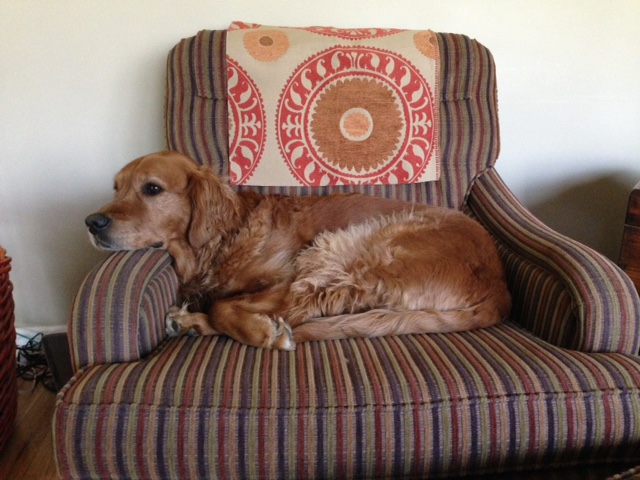 Back to the style question: to change or not to change? I put a nice sturdy darker toned stripe on my chair; it had to survive 2 boys, 3 dogs, and my occasional nap.  It did survive, very well indeed.  However I am now giving this baby a more playful soft look by changing the fabric.  The chair has great classic lines, so I am thinking color, maybe even orange this time around.  Probably a textured fabric as well….
So my answer is… if your furniture has a strong emotional tie, keep her, dress her up, and enjoy.  If you aren't that attached and want to give her a new home, then maybe it is time…..
I have some fantastic resources for new furniture, fabric, and reupholstering workrooms.  Pop me an email if you are in the "to reupholster or replace" state of mind.
Oh, and yes, look for sign ups early next week for our successful shopping webinar.