First I have to say that when our 19 year old was 3, he loved to draw, paint, sculpt, and hang with mom doing artsy stuff.  This continued until about 9.  Somehow I had a thought my 9 year old would return, and that dorm shopping with Nik would be fun, we would match colors, put together a design board, and then spend fun time putting it together.  Well….not so much.  When I was finally able to drag Nik into the store, he of course just went for the first item in the aisle.  Bed in a bag, and OK, we are done.  What about accent pillows?  A Rug?  Cute storage?  "I do need an extension cord or 2 Mom"  And with that we are headed to an electronics store…..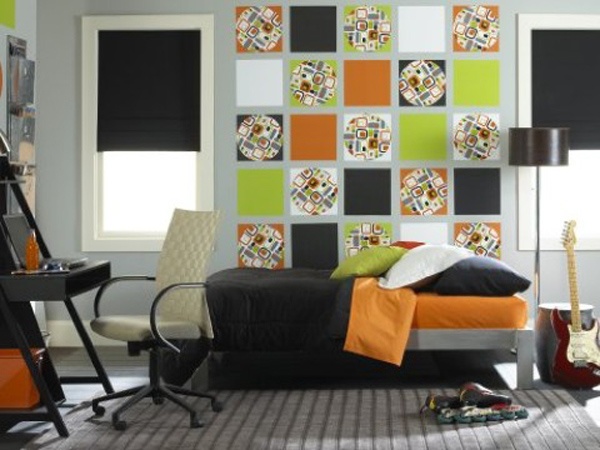 So let me live through my friends that have girls, or boys who love design.  Dorm decorating.  You have probably already completed your shopping, but I wanted to throw out a couple cute ideas.  Love the easy accessibility to under the bed storage.  Better yet, that it is hidden with this cute striped fabric…..3 colors in this room make it comforting restful.
This other pic is just fun, using a poster, but it isn't the teenager poster hung with 4 strips of scotch tape.  Mirrors, but fun, not the 27″ sit on your floor from Wally world………I don't think Nik or Nate even wanted a mirror, "What for?" They would ask.
Have fun with your college kiddos over the next week as you move them in, tuck them in, then cry like a baby.  Been there, done that!