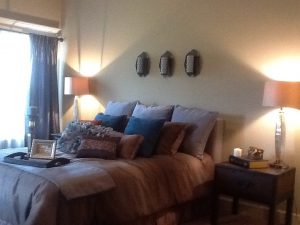 "a principal bedroom in a house or apartment, usually the largest, typically occupied by the person or persons who head the household."  Origin:  1925–30
When it comes to the master bedroom, I like to think of it as the place where the head of the household clears their head.  Especially after those long days that leave one wondering who actually IS the "head of the household".
No matter what name you use, or room size you have, a bedroom is a quiet place to relax and reflect.  Hopefully, it's a sanctuary of calm, out of the mainstream of activities, a place to rest and recharge.
When it comes to the master bedroom, strangely enough, it is often the last room a couple addresses when settling into a home.  Demands on finances and resources often move it way down the list for design – frequently it's only barely functional.  Then of course, there's the next design layer of sharing the room with the co-head.  (I'm reasonably sure the set of antlers won't work in here either.)  It's much easier to throw oneself into the idea of a themed room for our kids.  We love the idea of creating magic for them, and there is the added benefit of knowing it's only temporary.  Not so with the master.
A good place to start is furniture.  First – what furniture do you need? Bed, headboard, night stands, dresser(s), seating, storage.  What kind/style would work?  Wood or glass, eclectic, classic or modern?  Will small children be in there often – then safety is a concern.  Have a real problem with dust and fingerprints – consider materials that hide these more easily.  What kind of seating is needed?  Is this the room for morning coffee, or to curl up with a book?  Bedtime stories and weekend cuddling?  Consider leasing furniture to try it out, rather than agonizing over (and possibly energetically debating) purchasing items that will have a long-term impact. Most likely, a mattress purchase will need to be made – sleeping well is priceless.  What bed you decide on can have a major effect on the overall design plans – both in size and in materials.
Next, visit a paint or hardware store for color samples.  Find that all too overwhelming? How about getting out your favorite pieces of clothing, or items in your home, to see what colors you both like.  If you can't agree on a basic color, is there a neutral or main color that works well with both of your choices?  You can use the basic color for the main theme, and use highlights of each person's favorite.  Note: I have seen floral prints and plaids work together well, but at this point, the focus would be simply the colors in those items, not the pattern.
Sheets over the windows is probably not very restful, but good quality draperies can be quite expensive.  If you can't decide nor wait, a good neutral color is rarely a bad choice, and again – great for resale.  Try draping a test panel of your base color over existing draperies to get a feel for the impact.  It, and the rented furniture, can go when it's time for something more permanent. Just like the blank slate of a basic bathroom – changing highlight colors and creating feature walls could make both of you quite happy and comfortable when you rest your heads.
Of course, a designer can always help with listening to each of you and finding a common ground to expand on.  And if that doesn't work – then there is always the fall back choice of each having your own room to design…
And don't forget, my clients always say "I never would have thought of that!"   
Want to find out why?  Use the form to the right to send me your name and email to join us!