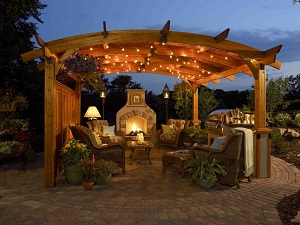 Welcome to all the newbies to my blog!  Hope you enjoy it as much as I enjoy sharing fun ideas.
We have learned the hard way to wait 'til all of the darn sticky pods have fallen BEFORE we open our pool.  Can't wait for the sounds of the water, mainly our retriever, Molly in the water. By the way, she does think the pool is only for her enjoyment.  So until then let's think about…
Sunrooms, decks, patios, porches.
Do you have a dedicated outside room?  Whether the room is at a vacation home or guest cottage or part of a "staycation" plan, these ideas can make it even better!
Key words are comfort and usability.  Take a moment – what mood, what types of use, and what time of year? Is this a three-season room, wraparound porch, covered patio, deck, or poolside?  Which way does it face?  How much light at what times of the day?  Deciduous trees or evergreens?
Make it adaptable – to a good book and a cup of tea, coffee and quiet to greet the day, share time with friend, family, or the family pet, listen to the rain, watch the wildlife – feeders, salvia for hummingbirds, plants to keep away pesky insects, convertible to accommodate the strolling neighbors and host get-togethers.
How do you use it, when do you use it, store away cushions to keep them dry, umbrellas or shade awnings, canvas roof or pergola, outdoor drapes, trellis for vines, quick trellis of beans.  There are amazing varieties of beans that have spectacular flowers and color– leaf, flower and then the pods.  Maybe sweet peas.  Try nasturtiums and pansies.  Longer term vines – clematis, star jasmine, wisteria, or the traditional look of climbing roses.  Plant Hollyhocks against a fence or as a cover for the a/c unit.
Maybe it's just a sidewalk along the back of the house – and you want to create a room.  An outdoor room has all the things an indoor one has, with more options!
Floor – stone with moss in between, concrete, gravel, pavers, or something else.  Check out the grave yards at landscape centers…  Email me to find out about fantastic local grave yards.
Walls – Again, trellises, vines, or fabric curtains are good options for quick use. Maybe a pergola or shrubs can be added for longer term
Roof – awning if you need to keep out sun, or canvas sheets.  A pergola does both roof and walls.
Appliances – Store folding trays, extra cushions, table that converts to seating
Furniture – Wicker, Adirondack chairs, metal, or modular plastic.  Chartreuse, turquoise, butter yellow or pumpkin…great colors for the porch!
Accessorize – colors, pots, comfortable, cool, calming,      relaxed
Color, color, color!!!
And don't forget, my clients always say "I never would have thought of that!"   
Want to find out why?  Use the form to the right to send me your name and email to join us!