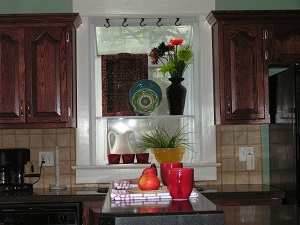 My favorite room is the kitchen.  So many things happen there – prep for holiday gatherings, family events, homework sessions, family art displays, and special projects.  A kitchen needs comfortable seating for prep, ample workspaces with easy clean up, functional arrangements that can accommodate several people and enough storage to allow décor but not clutter.  Some of us have our ideal kitchen, and some of us need creative ways to make what we have do all it must.
Often, kitchens of today require more planning.  We may have a great assortment of delightful gadgets that can shave time off our daily tasks, just so long as the time required for setting up those gadgets doesn't offset their benefits.   Store those aids and all their parts nearest the area they are used most – or closest to immediate clean up.  Create designated work areas, and keep frequently used items nearby – both are practical ideas and can lend themselves to great design options!
Use a color theme to blend these areas together, or one that highlights each section separately.
So you want a new color scheme!!!
I have always found gel staining a fairly inexpensive avenue to updating the cabinetry if painting or a faux finish is not in the budget.
You will find gel stain color options that can have a grey, brown, or red undertone.
Add new pulls and hinges; bring in new lighting to provide the right light for your work area. Track lighting often provides just the right type of light, is inexpensive, and can replace the large florescent baby that you probably want to send to recycling.
Orange you glad you are in your kitchen???  Try some color on the walls….Check out your closet; what do you love to wear when it comes to color?  Throw it on the walls!
Color, color, color!!!
And don't forget, my clients always say "I never would have thought of that!"   
Want to find out why?  Use the form to the right to send me your name and email to join us.