Fireplaces…..yes, spring fever has set in and I am already removing the logs, cleaning up the ashes, and moving in with some spring stuff to brighten the fireplace.
I love the look above; the gray palette is very soothing with the beautiful green fern adding a punch of color. The chic black firebox stands out as well surrounded by the simple white frame.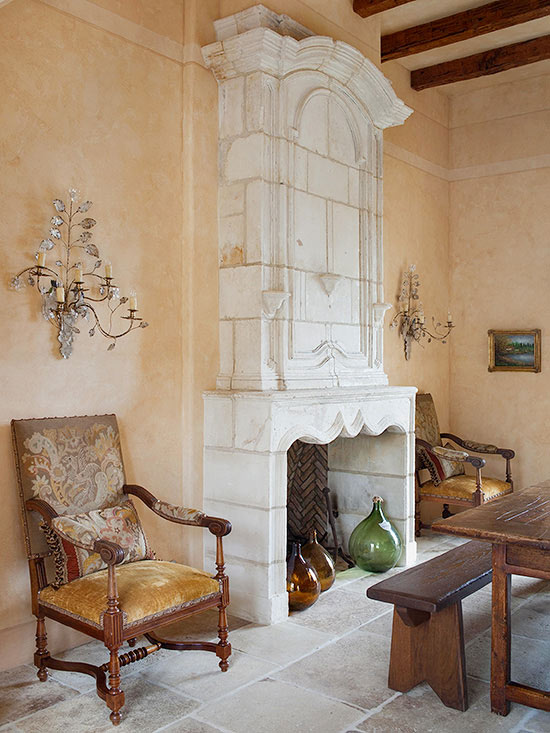 And how about the beautiful glass vases to add shine in a usually not so shinny area? Wouldn't this be a nice change form the unburned logs that we usually store in the fireplace over the summer?? I would also be tempted to add some white carnations or roses just to coordinate with the mantle. Why not throw a few in a vase and add to the table? This my friends, is a look I could chew on all day long.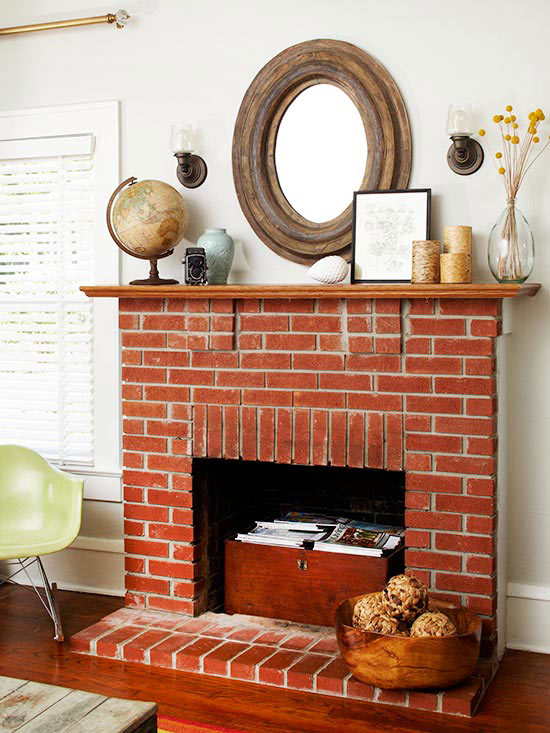 Ok, so you have a red brick fireplace. I hear all the time, "Sue, I want to paint it". Well, you can paint it. First instead of walking away, try working with the color. Notice the rich deep color of the wooden box inside the fireplace? I think the soft brown accents on the mantle work great, and I would also add some gray (the color to die for lately).  Maybe a gray ceramic piece, glass bottle, or books wrapped in gray printed wrapping paper.
OK, I am done with the fireplace redo. Now it will probably snow next week just to throw us a curve ball. Oops – can't mention "curve ball" without adding that the Royals start spring training in less than 30 days. I love baseball!!
In other goings-on…I have finished one new build design over the winter and will get some pics to you folks. I start another one on Monday, and cannot wait as these cute as a button clients know what they want, but need just a hint of guidance. Pics to follow! Debbie just needs an exterior color as she is set as well.
Our house is quiet. Our boys are back in school, our golden is lost without them, and I again am her bestie. That isn't so bad…
Have a great week, and don't hesitate to reach out with design questions or ideas you would like to see in action.
Kindly,
Sue
Changeit Designs