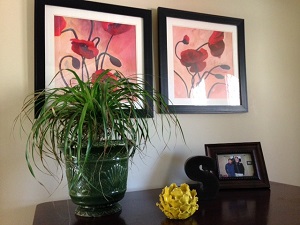 I love this time of year in Missouri.  Although the temperature swings wildly between spring and winter, it's as if we keep getting dress rehearsals for spring.  By the time the last frost date has passed, we are ready!  Picnic baskets are out, sports equipment sorted and polished up, trips planned, calendars checked, the lawn care stuff is ready to apply, mower is humming, and seeds sprouting in their little pots.  Ready set go!  Wait.  Wait.  Ready set, no wait.
While we wait to run out to greet the spring – we can create it inside.  This is an especially wonderful time to ready our homes for the seasons ahead.
Change up your decorations – retire winter use things and bring out spring.  Add new spring colors to the coat rack with umbrellas and spring scarves.
Clear out that staging area for coats, mittens and boots. Change the art and the rug in the entry using color that are on the front porch.  Or just use your favorite spring colors.  Try to keep the color palette to 3 or 4 colors
Hang small packets of lavender on the coat hooks, it freshens the room and stays with them throughout the day. Add pieces of chalk to a mesh bag and add to the closet. That will help keep your closet fresh and odor free.
Lightweight curtains at the windows or maybe a pennant valance.
Add a plant indoors.
Try your hand at forcing bulbs to bloom indoors.
How about an African violet in a charming pot to highlight an area?
Build a terrarium. Here are some cute ideas for you and your child to create.
This time of year, I love to start pots of herbs in a window, or on counters.  Enjoy both the taste and fragrance of fresh herbs.
Citrus brings with it a delightful aroma, and lasts.  Splurge on a collection of citrus fruit, and place them in bowls.  Limes, lemons, oranges, even grapefruit can brighten up a room – adding both color and fragrance.
How about adding color, regrouping, etc.  For those things that you use all year, try a new color theme or move them around.  We use rooms differently this time of year, so consider relocating things you use frequently.  Warmer weather brings cooler drinks – and the need for more coasters for those drinks. Find something fun and colorful.  Maybe those books could use new colors of giftwrap, or a pot of wooden tulips.  Another idea is to use pieces of colored poster board cut to fit at the back of the shelf, creating a pattern.  Decorate them with flower pictures or photos of people laughing.
And don't forget, my clients always say "I never would have thought of that!"