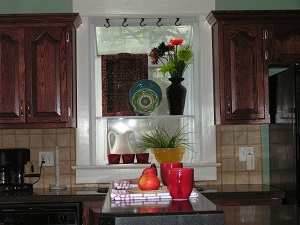 Small is the new trend. (Or reality.) People are moving towards economy, efficiency, convenience. Whether downsizing, nesting, starting out on your own, in transition, temporary housing, or you just have a small room you want to better utilize – small is small. They all have several things in common. No matter the reason, a home most of all needs to be comfortable for the people who live there.
Thoughtful planning – what do you need, what do you enjoy (seeing, doing, and entertaining), what have you just acquired (great sale someone just couldn't pass up, gifted items, left over from…) but never use?
Clutter – Define it!
Unnecessary papers, junk mail, uncompleted projects that have escaped your to do list for a few weeks….I know, a toughie, as we really want to get it done! Sometimes things just seem to stack on a counter, a corner, under the coffee table. My kitchen counter is the victim in our home. My really large counter looks about ½ the size when I have decided my papers are best placed on my granite counter….go figure. Clutter does eat up space.
Ok, let's get rid of the clutter:
Donate
Recycle
Pack and store…great for sentimental items
I actually rotate some of my Mom's stuff so I can enjoy by it yet not feel like I am drowning.
Furniture: How do you want to use the space? Ask yourself how many people will be in the space, what is the activity, what time of day. Here's an example: Living area, 3 people using it regularly then have seating for 4 with a flexible piece to use for seating, storage, or as a bench which could be usable end table surface.
Don't be afraid of larger pieces, scale and balance are important: too many small pieces will look like a jigsaw puzzle…..too much going on.
Consider double duty items: couch that converted to bunk beds; hanging table; nested tables; murphy bed; storage ottomans; dresser that doubles as a closet & changing table; coffee table that is grouped seating or storage telescoping coffee table; armoire offices and media centers – it seems the only limit is your imagination!
Storing things in an organized manner is key to living in a small space. I love the cute box idea to store things for the computer, coupons, and the sort of thing I think I will need but not sure when.
I am always recommending a storage ottoman for kiddos toys. This will look fantastic with the sofa, and serve the second purpose of storage.
A few storage ideas: closet organizers; modular wall shelving; hutches; shallow cupboards; under-bed rolling storage; pegboard in the kitchen for utensils; chalkboard fronts to cabinets; organizing wall near the main entry.
Being clever with the planning, and persistent with the de-cluttering brings you a long way. But, it's still small.
• How about color? Color is key when decorating a small space. I recommend a monochromatic color palette. Different shades of the same color: soothing and easy on the eye.
• Lighting is also a strong player in the world of small space decorating. Natural, overhead, up, and table lighting can all have their place.
• Easy transitions are another. Changing or expanding the room's use needs to flow simply and with the minimum of effort. Having to rearrange completely every time will quickly wear thin.
• Simple ways to store temporary clutter. We can make great plans to deal immediately with each item that comes into the room, but those plans can often go the way of New Year's resolutions. A better and less stressful idea is to create temporary staging areas for short-term use items. Or place a receptacle at the door of the room for things to be moved to another.
Years ago I learned a wonderful trick for cleaning day. Place a box (I used my child's toy wagon) at the door of the room you are cleaning. Clean the room in a clockwise manner – so dusting, straightening, and fluffing are done uniformly. Each time you come across an item that belongs in another room, place it in the box and continue around the room. When done take the box to the next room and repeat the process, taking only the things that belong in the new room out of the box.
If you have a staging area already set up, you can quickly collect the few things that are out of place and return them to their proper places each evening before bed. Lots of items and a late movie? Simply move the clutter on the way thru the door and sleep well!
And remember, my clients always say, "I would never have thought of that!"